Are you comfortable in your own body? Or sometimes, when you close your eyes and dream, do you imagine yourself in a different body—perhaps not even a human body, but something closer to an animal, or a fantasy creature? If so, then you just might be interested in furry fandom, which revolves around this idea.
As a furry, you take on an anthropomorphic fantasy persona when you interact with other furries online. Anthros are the classic anthropomorphic characters who have human characteristics like body shape and behavior, but have the fur and other physical attributes of an animal. Another kind of furry persona (or "fursona") is a neko, a character that is human but has a cat ears and tail (and sometimes paws), or variations of this based on other animals such as dogs.
If you have artistic skills, you can create a drawing or painting of your fursona from scratch. If you're not, you can commission an artist to create a fursona for you, based on characteristics that you specify, or based on reference characters ("refs") that you find on platforms like Tumblr, Kik, and Discord. If you don't have enough money for a commission, it is common to save a ref from an artist that you like, and to make it your own by giving it a name and personality.
How furry roleplaying works
Many furries like to roleplay sex as their fursona. They would send their chosen image to a play partner and say "this is pretty much what my character looks like, and this is anatomically what we have going on." Role playing sex as a furry gives you much more flexibility than you could ever have in real life. You are at least likely to have have fur and a tail, so it's already pushing human boundaries there. But you can also choose how big your character is, how old they are, and what body parts they have—for example they might have both breasts and a penis, and sometimes even a vagina as well.
In my case, I have always wanted to play a character based on Buxbi, a tiger-like furry created by an artist I admire. But I wasn't limited to playing one character. I identified as a shape-shifter who could change into whatever I wanted to be, so I didn't have a single fursona. I could change from being a little fox cub when playing with one partner, and into a big thick momma tigress when playing with another. In this way, I was able to role play with many different people, and in turn I got to experience virtual sex with many different creatures that don't even exist in reality. Often, I wouldn't ever see what my partners looked like in real life, or know anything about their real-life body or gender.
Censorship of furries
Regardless of what other kinky fantasies you may like to play out, as a character with ears and a tail who wants to get fucked by another character with ears and a tail, you are already kind of a weirdo out of the gate. And then there are those who want to get fucked in real life while wearing a fursuit (which is an entirely separate article in itself). You're guaranteed weird no matter what when you're a furry.
As a result furries are deeply misunderstood and stigmatized. When I told my own dad that I was admin of a furry group, his response was, "You are too cool to be a furry." It's hard to pin down exactly what this stigma stems from. Some people do wrongly assume that we are into having sex with real animals, but this is true only for a very small minority as it is not accepted in the general furry community. Another misconception is that the young "cub" fursonas that some furries play with represent an interest in human children. This is almost never the case, because furry roleplaying is all about fantasy.
But because these misunderstandings contribute towards the overall stigma that the furry community suffers, even members of the furry community itself have tried to distance themselves from the more controversial parts of the fandom, for example declaring cub porn to be "off limits". But what the community needs to understand is that outsiders see our entire fandom— which appears to them as being all about sexual role playing with cartoon characters and furry animal suits—as being about the sexualization of minors. Banning cub fursonas isn't going to make a lick of difference to that false perception.
Therefore once you say that some fantasies are off limits, it's hard to close the door to the broader censorship that results, and this has had dire effects on the entire community. As a result, furry art that doesn't clearly represent an adult has been progressively censored on Discord, Kik, Tumblr, and Twitter.
But in a furry context, censoring or prohibiting young-looking fursonas doesn't make any sense. A single fursona can often represent a band of different ages. It might represent a character that is over 18 during one role play session, and under 18 in another session, based on the player's mood and who they are playing with. A fursona might also look physically tiny or childlike, but represent a character that is of adult age, or even more ancient. A younger character design is also appropriate for those who enjoy role playing DD/lg scenarios. It really doesn't matter: it's all fantasy anyway.
With the increasing censorship of furry art online, I no longer have the stock of interesting and diverse new characters that I used to see on Tumblr. I have already played most of the characters that I have already saved, and I like to play a variety of different characters. That's one reason why I have recently quit doing furry roleplays. Censorship has really begun to spoil the whole community.
Support and safeguarding in the furry community
Despite the stigma that we all suffer, furries are really welcoming and accepting. Part of the welcoming and safe space that furry communities provide is down to the admins (administrators) of the forums where they congregate. The group that I adminned was a Kik chat group. We would enforce our own rules (you can read mine below), and the admin would decide what those rules would be, but we would also have to follow the overall community guidelines of the app such as Kik or Discord.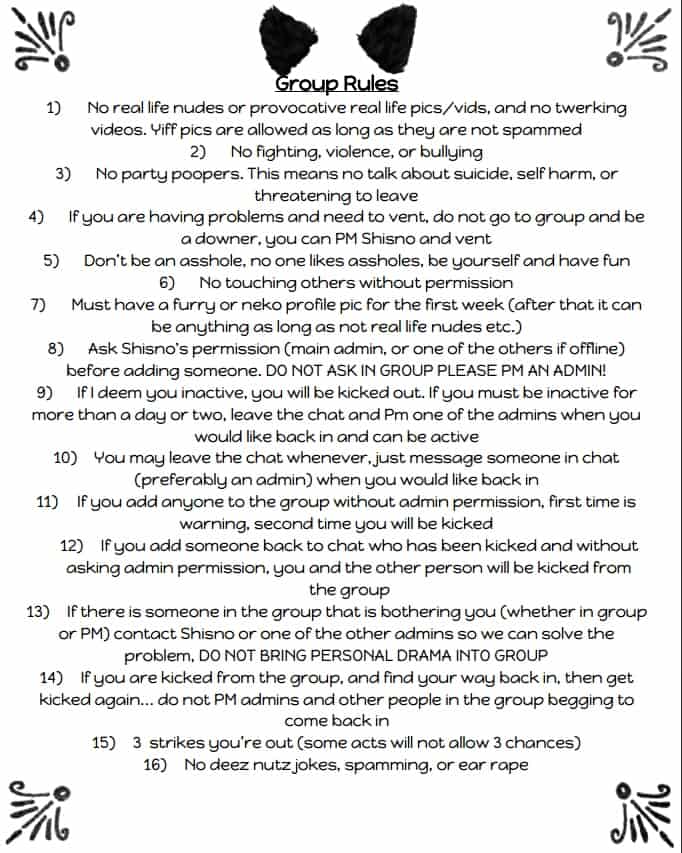 My group included both adult furries, and also some underage furries. Knowing that underage furries are going to be exploring their characters anyway, it was part of the admin's job to make sure that they did so safely. We did this by separating them out from adults during role play. We would have one group that was limited to under 18 teens role playing with each other, and another group that was for over 18s only. The two groups could come together to chat socially and exchange art, but role play between adults and minors wasn't allowed. After all, essentially you are having sex with someone long distance, so it was important to keep that boundary between the two groups.
The job of an admin wasn't just about enforcing rules, it was also about providing support. When people were going through problems and didn't have anyone else to talk to, we had to make sure they had a safe place to come to. It was our job to ensure that the community was harmonious and supporting, and that no matter what your age, you would feel safe there.
Our community is at risk
But as Kik and the other platforms came down harder and harder on our community by imposing new regulations on the art we could share and the fantasies they could enact, our communities began to come apart. Although I'm still in some Kik groups, the ones that I was adminning sadly died. Today, there are less of those groups than what I had when I was discovering my sexuality safely through online role play, and this saddens me. Groups tend to slowly die as the social platform it is on becomes more and more restricting, till what is left moves on to another platform until that one inevitably begins to censor more themselves.
Furry lifestylers themselves have also increasingly caved to outside pressure by placing new limits on the fantasies that their fellow furries are allowed to express, or the art that they are allowed to enjoy, and shaming those who transgress these limits. This is foolish, because it undermines the stability and safety of our entire community.
A fursona is not a real person, and the size, shape, and apparent age of its body do not matter. What matters is that furries have a safe environment to engage in age-appropriate exploration of their fantasies, as they discover what works for them, and what doesn't. For many young furries, role play is the first kind of sex that they have. Being able to safely role play sexual fantasies helps them to understand their own bodies and desires, and to model the sexual behaviors that they will later enact in real life.
Censorship imposed by those who don't understand the furry lifestyle cuts off this avenue of exploration and personal development, which in turn makes it more likely that young people will be pressured into less safe sexual behaviors before they are ready, and that more of them will end up being victimized.
Despite the stigma and prejudice that we face, there is nothing wrong with being a furry. We don't have to apologize for our existence to those who don't understand us, and we shouldn't capitulate to their paternalistic demands. That's not to say that furries can't commit sexual abuse—as in every community, some can and do. But our community is best placed to combat abuse by acting as good role models and gatekeepers.
Conclusion
Furry fandom can get a little "hairy" at times, but real life abuse must never be tolerated—especially when minors are the victims. From my experience as a furry community moderator, I know that those who are best placed to keep an eye on the safety of their most vulnerable community members are its more senior members who have earned the community's trust. If we can believe that we have furry ears and tails, is it too much for us to believe that we have the power and the responsibility to safely manage our own community?

---
Featured image "Early morning snuggle" © 2015 Buxbi (@BuxbiArts), used by permission.