Safewords and red lines: consensual kink and child protection
July 18, 2019 @ 11:00 am

-

12:00 pm

PDT

Free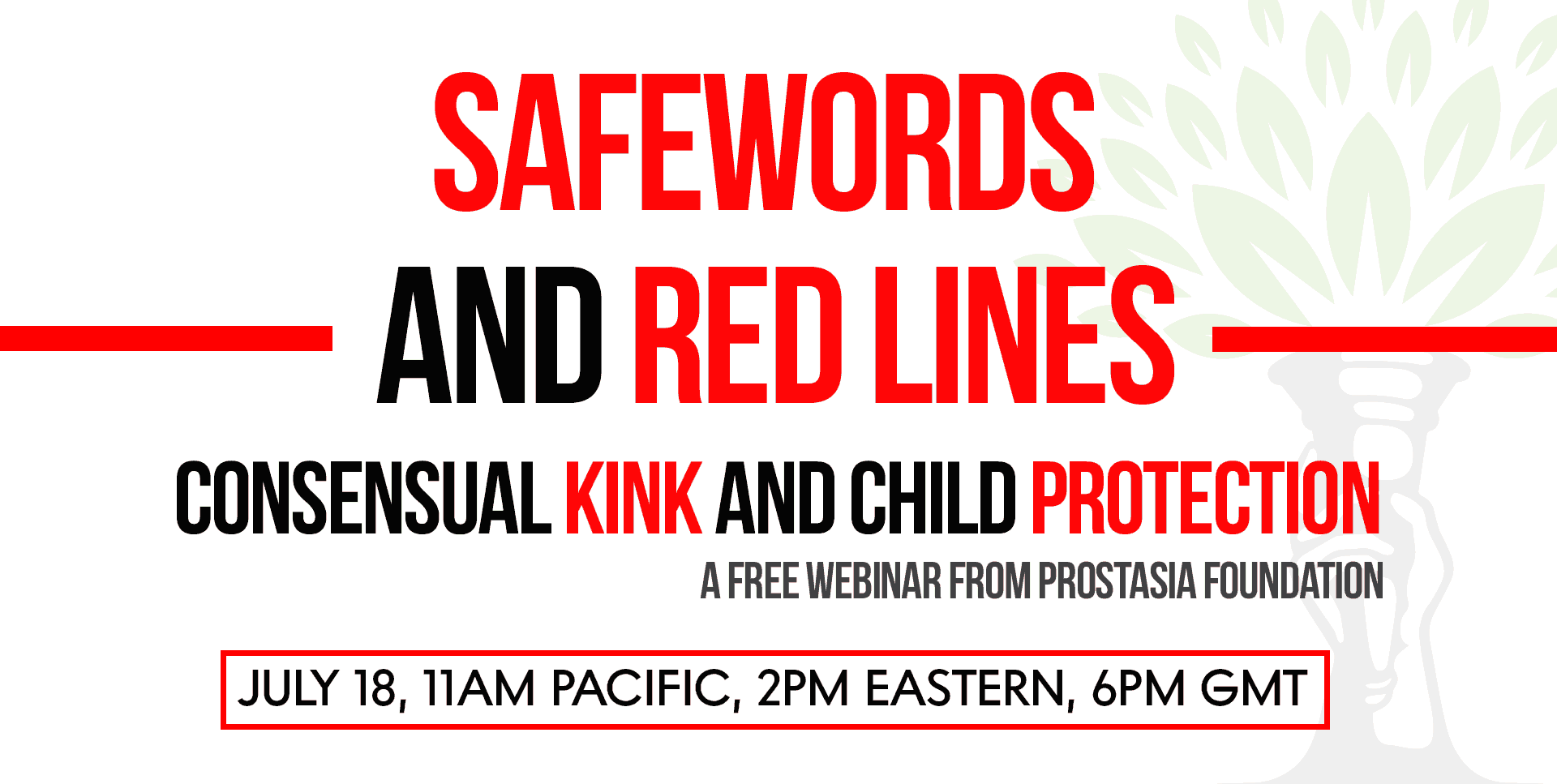 A recent Huffington Post article about children at Pride parades suggesting that "kids can handle the kink" generated thousands of angry replies, from those convinced that progressive sex-positive communities have gone mad and are grooming children for sexual abuse. Prostasia Foundation has also come under fire recently for its suggestion that the insights from the consensual kink community should be welcomed in the development of child protection programs and policies.
So is kink really incompatible with child protection? We think not, and in this workshop, we can lay out the evidence that shows why sex-positive communities such as kinksters, consensual non-monogamists, and sex workers are well placed to be allies in the fight against child sexual abuse and exploitation. But we will also pose some challenging case studies, to illustrate how it's not always as simple as just keeping an 18+ sign on the door:
A guest attending a play party at a science fiction convention was confronted about breast feeding her infant at the party, in a room where no play was taking place. Other guests were concerned that this might get them into trouble with the authorities—but the organizers decided in favor of the mother. Was this the right call?

A bisexual and polyamorous woman in her 40s became involved in a sexual relationship with her 18 year old tenant, and on two occasions engaged in sexual activity with him in the presence of her 5 year old son. She claims her son had been asleep on one occasion, and unable to witness the act on the other. Were any lines crossed?

A young transgender man was sexually abused throughout his childhood while he was in foster care or homeless. Recounting and reenacting his memories of abuse are now an important part of his sex life for him, and he seeks out sexual partners who receive sexual pleasure from this also. Should he be stigmatized for this? Should his partners?
Building upon work done with Internet companies at a series of meetings in May and June 2019, Prostasia Foundation is co-developing a set of guidelines for how kinky and non-monogamous people can show their responsibility and leadership when it comes to protecting children from sexual harm, while standing up for their own sexual freedoms as consenting adults. This event will outline our concept for the guidelines, present some key learnings from sex-positive child sexual abuse prevention experts that can inform their development, and invite community input and participation.