Keeping platforms safe, inclusive, peaceful, and healthy
June 4, 2020
@
11:00 am
–
12:00 pm
PDT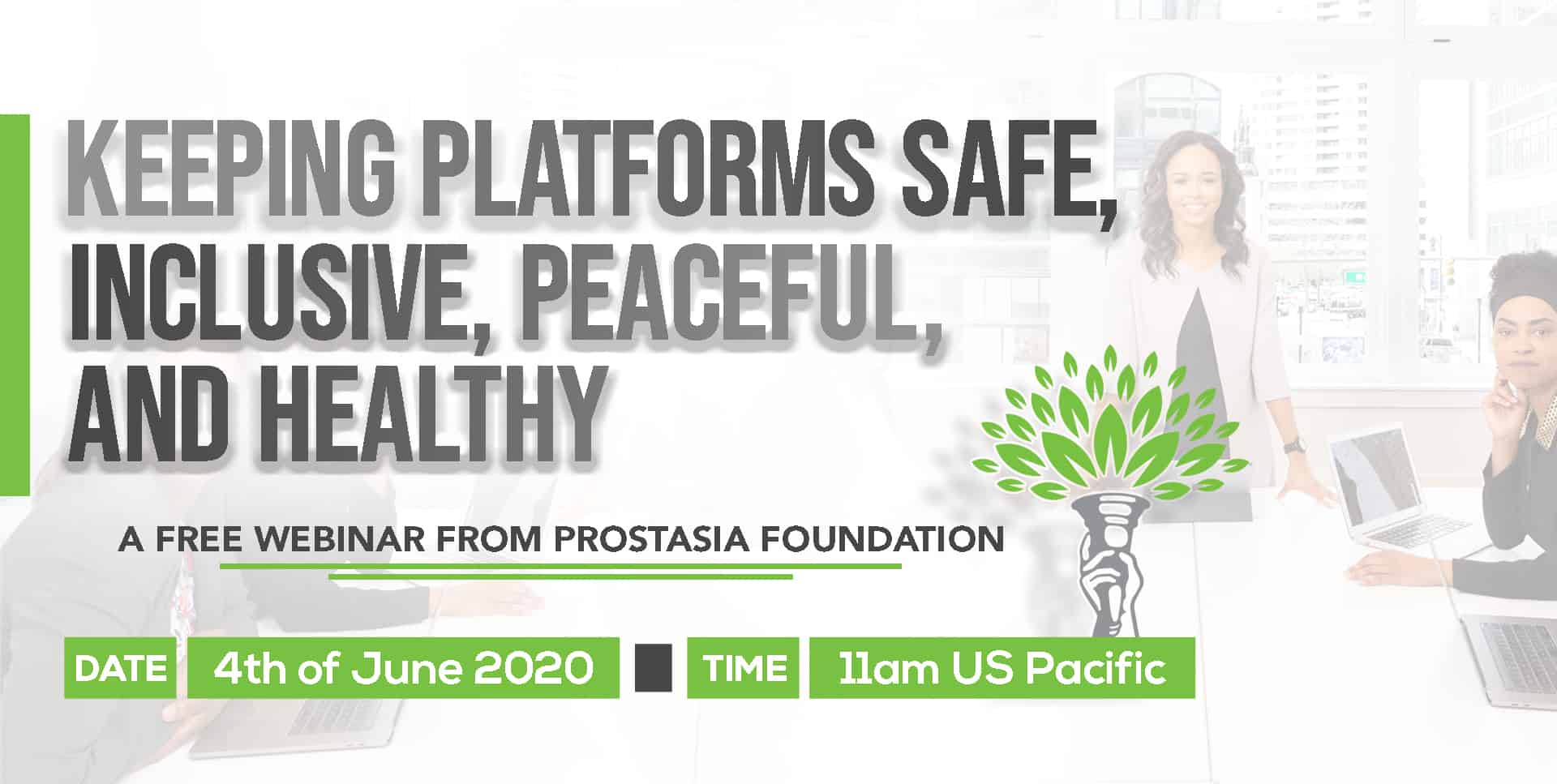 Keeping Internet platforms safe, inclusive, peaceful and healthy involves both design decisions, policy development, and community building. Failing in any one area can result in endemic bullying and harassment, an unwelcome environment for marginalized users, and the exacerbation of some users' existing mental health problems.
This webinar will consider all three elements of building and maintaining an Internet platform that attracts and retains a diverse and happy user base. Participants will also hear how Prostasia Foundation is partnering with fan communities to develop community guidelines that uphold freedom of expression for creators and fans, while also protecting them from abuse.
Completing this webinar will enable you to learn about:
Supporting volunteer community moderators and the development of community standards
Better practices in tagging and agegating adult and other triggering content
Dealing with harassment, abuse, and dogpiling over fictional content
How to identify and provide support to users who may have mental health issues
Impacts of platform content policies on LGBTQ+ communities
Presenters
Jeremy Malcolm is Executive Director of Prostasia Foundation, and a lawyer and policy expert with experience in human rights, child protection, and Internet governance. He led the development of the Manila Principles on Intermediary Liability and is a member of the Multistakeholder Advisory Group of the Internet Governance Forum. Jeremy advises Internet platforms on the boundaries between free speech protection and child safety, emphasizing preventative approaches.
Claire is the co-founder of Fanexus, an upcoming social media platform that centres the needs of fandoms and indie creators. Due to the increasingly rampant harassment and ever greater push for censorship of artistic freedoms in online fandom and creative spaces, a focus of Fanexus has become providing a space that guards against cyberbullying whilst permitting a significant degree of artistic freedom compared to most popular platforms.
Creator, software architect, and senior vice janitor of BobaBoard, Essential Randomness has been living and breathing online communities for over 20 years. Software engineer meets mental health activist IRL, her online alter ego researches (and creates) sustainable, decentralized online communities for fandom. Her value proposition is to recreate the fun and excitement of early online communities in a safe, supportive, and diverse environment. As required by contract, she speaks only for herself.
Who's coming?
13 people are attending Keeping platforms safe, inclusive, peaceful, and healthy