Editor's Note: Prostasia is reprinting useful material from our newsletter for blog readers. This review first ran in November 2020. To keep up to date on everything happening at Prostasia, you can sign up for the newsletter here.
_____
In June 2019, Parents Council President Tim Winter called on AT&T to censor the HBO show Euphoria from cable TV, saying, "What HBO is doing with this show is taking the most extreme conduct that a teenager can experience and normalizing it."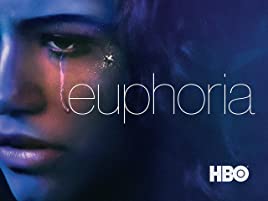 It's true that there's quite a lot of "extreme conduct" in this series about high schoolers experimenting and struggling with sex and drugs. To give a hard-hitting example (spoilers follow), trans character Jules is introduced hooking up with a much older Grindr date who (by definition) rapes her; a scene that the Atlantic's reviewer said "feels almost obscene."
But what does it mean for Tim Winters that Euphoria "normalizes" such events? It certainly doesn't glamorize them. But, again controversially, neither does it shy away from portraying the complexity of the characters' emerging sexual agency. Jules tells her friend that she knew what to expect on Grindr. In another character's flashback to an even younger 14, the narrator insists that in her flirtatious interaction with an older man on the beach, she was "always the one in control."
Indeed at times, the risk of abuse looms larger than the reality for these characters. In one scene a girl tells her boyfriend to stop when he begins to act out a violent scenario that he had observed in porn—and he stops. In another episode, molestation charges against a character's modeling coach end her runway dreams, but she doesn't suffer abuse herself. Another character's nude video is leaked online, but she uses it to pivot into a pro-domme career (which again by definition, is sex trafficking, but hasn't had any dire consequences for her yet).
These are reckless encounters, and the adults involved are the only responsible and culpable parties. But these stories are told from the viewpoints of the teens themselves, who like many teens, act as if they are bulletproof.
When it comes to child sexual abuse, it's tempting to moralize, and that's perhaps why it seems jarring when Euphoria generally doesn't play out the worst scenarios of abuse that its characters might have endured. Even when characters do suffer abuse, their resiliency is highlighted. When Jules is tricked into sending illegal images of herself and is subsequently blackmailed over them, she is unintimidated by her abuser—but very intimidated by the fact that she might end up on a sex offense registry. And for trans Americans, that is a very real and valid fear, just as much as rape is also a real fear.
The producers of Euphoria have made the choice to portray the lives of sexually active young people in all its (larger than) real life complexity, rather than to engage in moral grandstanding. These portrayals are, at least, generally not salacious, despite plenty of provocative content (one episode features erect penises and a man masturbating).
Perhaps it's because child sexual abuse is so shattering for many victims that it feels slightly jarring to watch a TV show in which teens have sex and… mostly end up fine. Mature viewers should avoid reading into this a morally depraved agenda that really isn't there, because the story that is there is moving, engaging, and funny.